Leona VanGee ~ Norwex Consultant in Fredericksburg, Virginia, 22407
Families live happier, healthier lives as we create safe havens by radically reducing chemicals in our homes with simple, cost-effective solutions that truly work.

Visit my Norwex website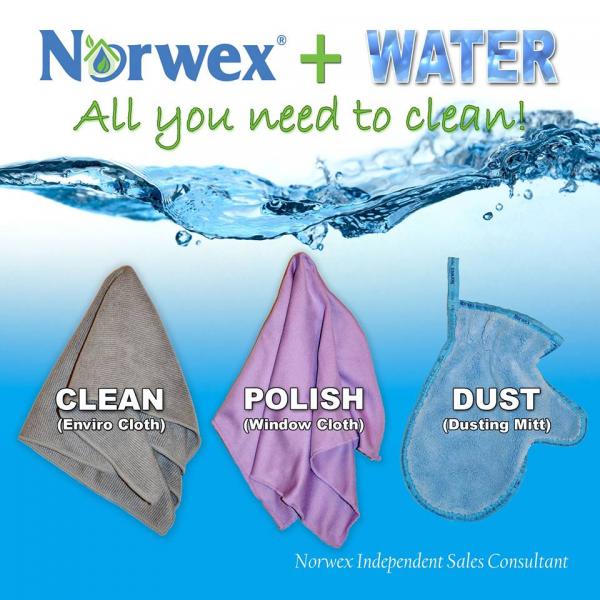 About My Company
The Norwex Movement is a global community working to effect change by reducing the chemicals and waste that challenge the health of our environment.
Keyword List
green cleaning, water, environmental. ecological, chemical-free
About Me
Families live happier, healthier lives as we create safe havens by radically reducing chemicals in our homes with simple, cost-effective solutions that truly work.
My Favorite Products
HERE ARE SOME KEY REASONS I LOVE MY NORWEX CLEANING SUPPLIES
1. NATURALLY ANTI-BACTERIAL
Most of their products (the "anti-bac" ones) are anti-bacterial from the tiny silver particles that are threaded in to the fibers. Silver is a naturally anti-bacterial agent, which is something I've known for years now. I use colloidal silver on occasion for medicinal purposes.
The basic premise is that the incredible quality of the microfiber picks up even the tiniest particles and organisms when it's wet, including germs, which are then rinsed down the drain when you rinse the cloth out. The cloth then disinfects itself naturally while it dries and awaits your next use.
SOURCE: THE NORWEX WEBSITE
It's recommended to launder it after especially nasty uses, like raw meat juices on the counter, or cleaning the toilet, but for regular every day use you can simply rinse it and hang to dry. I love not having to throw my kitchen cloth in the wash every time I use it. With normal cloths I only let them go about half a day before throwing them in the laundry. With my Norwex kitchen cloth, I wait about a week.
2. MORE EFFECTIVE
This is perhaps the best part of all. Once I started using a norwex window cloth, I refused to use anything else on all of my stainless steel and glass. It's absolutely incredible. I honestly wouldn't have imagined the difference it would make, but it really, really does.
I clean my stainless steel faucet with a regular ol' cloth + homemade cleaning spray… and it's clean (with more scrubbing), but full of streaks and smudgy spots. The Norwex window cloth makes it as shiny as when it was brand new. No kidding.
And since shiny things are my favorite, the window cloth is my BFF. It does the same for mirrors and other glass. It impresses the heck right outta me. Dare I say: it *almost* makes cleaning legitimately fun.
You should also know that this is no cheap dollar store microfiber. Cheaply made microfiber cannot compare – I've used it, and thrown it in the back of my closet never to see the light of day again. In my normally-very-frugal opinion, the Norwex cloths are actually worth the money because they last so long and are total workhorses.
My enviro cloths and window cloth that I bought five years ago (a 4-pack of the travel sized cloths in order to save money back then!) are still going strong, and I still favor them over all other cleaning supplies. I figure they've probably saved me a ton of money by now simply by being so much more efficient than other options.
3. SIMPLICITY AT ITS FINEST
Norwex products are completely free of harmful chemicals, yet you can use them with only water for maximum efficacy! In fact, soap can clog the fibers, so it's recommended to stick with water.
Location
200 Windswept Drive
Fredericksburg
,
Virginia
22407
United States
38° 16' 15.7008" N, 77° 33' 21.24" W
Location
200 Windswept Drive
Fredericksburg
,
Virginia
22407
United States
38° 16' 15.7008" N, 77° 33' 21.24" W